Dr. Brandon Strenge is one of the founding members of The Orthopaedic Institute of Western Kentucky. He is a fellowship-trained orthopedic spine surgeon specializing in minimally invasive spinal surgery and motion-preserving procedures to treat both cervical and lumbar spine disorders. 
Dr. Strenge is an active member of the American Academy of Orthopaedic Surgeons, the North American Spine Society, the Society for Minimally Invasive Spine Surgery, and the Southern Orthopaedic Association. He is a principal investigator for several clinical research trials with the newest artificial disc replacement, minimally invasive fusion surgery implants, and the latest cutting-edge synthetic bone graft substitutes.  
Dr. Strenge began his pre-medical training at Eastern Illinois University in Charleston, Illinois. He graduated cum laude with university honors while obtaining degrees in zoology, chemistry, and psychology. He then attended Southern Illinois University in Springfield, Illinois, where he completed his medical degree and residency in orthopedic surgery. His fellowship in spinal surgery was completed at the Spine Institute in Santa Monica, California, under the supervision of three world-renowned spine surgeons, Drs. Rick Delamarter, Michael Kropf, and Hyun Bae.
After establishing a clinical practice alongside the late Dr. Clint Hill, the two began collaborating with many world leaders in spinal implant manufacturers. They provided expertise and insight into the development of what is considered the current state-of-the-art spinal implants. 
Today, Dr. Strenge continues to function as a consultant for some of the most influential implant design teams. He helps them create the next generation of tools, implants, and surgical techniques so spine surgeons around the world can take better care of their patients. 
Specialties
Minimally invasive spinal surgery
Motion preservation
Neck and back pain
Spinal reconstruction
Disc Replacements
Radiculopathy
Spinal stenosis
More
Education
Eastern Illinois University – Bachelor of Science in Zoology, Minors in Chemistry and Psychology Cum Laude (1994-1998)
Southern Illinois School of Medicine – Medical Doctorate (1999-2003)
Southern Illinois School of Medicine/Affiliated Hospitals – Orthopedic Surgery Residency (2003-2008)
The Spinal Institute at Santa Monica – Spinal Surgery Fellowship (2008-2009)
Memberships & Accreditations
American Academy of Orthopaedic Surgeons (AAOS)
North American Spine Society (NASS)
Society for Minimally Invasive Spine Surgery (SMISS)
Southern Orthopaedic Association (SOA)
International Society for the Advancement of Spine Surgery (ISASS)
Clinical Trials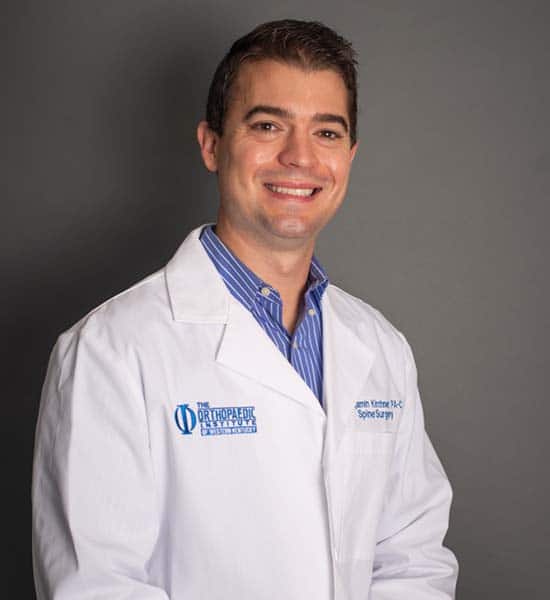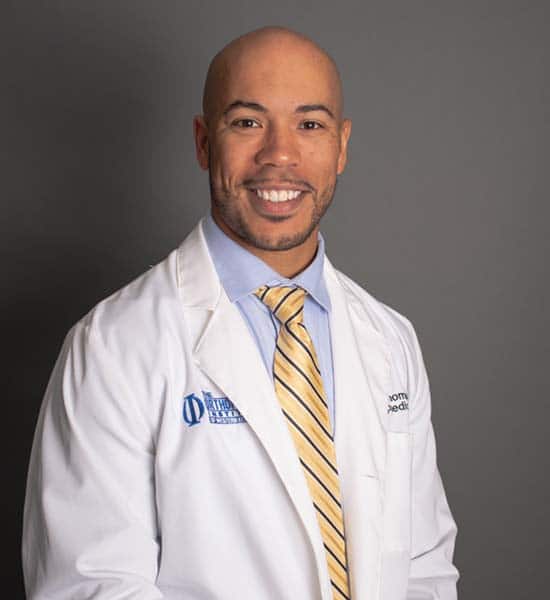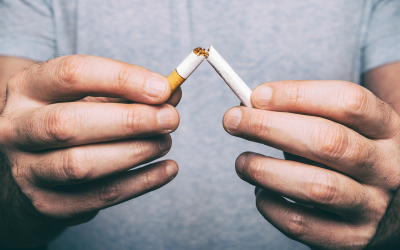 Most people know that smoking can complicate surgery by slowing the healing process, but very few truly understand the science behind why smoking, or more accurately ALL nicotine products, are so damaging to surgical outcomes.